I'll raise my hand – I'm Sally and I'm a serious chocoholic.
My two-bar-a-day addiction sure helped out Dairy Milk, but wasn't doing much for my physique. So when I decided to approach life more healthily, finding a nutritious chocolate was my first port of call. No refined sugars, fillers or additives, thank you.

How to select good chocolate
Cacao is the raw form of the more commonly recognized ingredient, cocoa. Cacao is the hero of chocolate – its nutrient dense and full of antioxidants. So much so, that it'sbetter to eat it than to avoid it. Cacao also contains phenethylamine (PEA) which makes you feel elated, in love and attractive – can someone drip-feed me this please?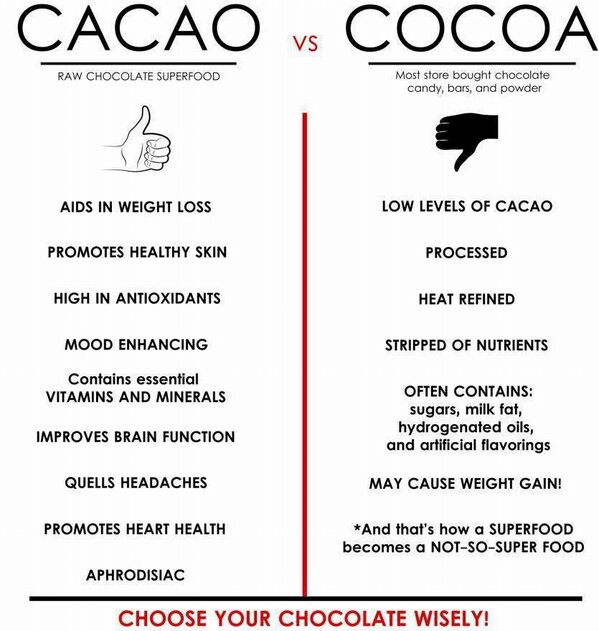 Generally speaking, the darker a chocolate bar, the higher the cacao content and therefore the lower percentage of fillers – aim for 85% or greater. However, it is important to note that cacao loses almost all of its amazing nutritional benefits once heated. Most commercial chocolate (regardless of cacao content) is processed at high temperatures, leaving it nutritionally lacking.
That's were raw chocolate steps in.
Okay, so what is raw chocolate?
Raw chocolate is chocolate that isn't polluted with unhealthy ingredients, and is produced at a low temperature to ensure all the nutrients remain intact.  It can increase concentration and creative energy for long periods without those nasty sugar highs.
The raw chocolate movement has become increasingly popular in recent years, and I love it. It's about time we knew what was going into our foods and how it affects our bodies. Here's how to make your own:
Basic raw chocolate recipe
Mix together:
1 cup melted organic coconut oil
1/4 cup raw cacao powder
1/3 cup sweetener, such as honey/rice syrup/stevia (to taste)
While you can get your kicks from pouring the basic mix into molds and adding flavors such as cinnamon and vanilla, why not get a little more creative? Try my Chocolate Rolos or Cacao, Cherry and Maca-Tahini Cups recipes.
---
MORE CHOCOLATE PLEASE
You can purchase my eBook Chocolate Every day here.
---
Alright, just give me some already!
If you're not that way inclined, or just need to grab some on the go, there are some excellent raw chocolate companies you can turn to for a fix. Bar fast the best I have tried was from these guys:
Rawsome Chocolate offers a brilliant solution for people hungry for both culinary decadence and physical wellbeing. Rawsome is hand-made with love in Bondi, and flavours include Cruisy Coco, Groovy Ginger, Mighty Mint and Coffee Crunch.
I love these bars broken up and sprinkled in porridge or mixed through homemade granola.  Also, try mixing the chips up in frozen blended banana, or use them in cookies in place of traditional chocolate chips.
Get over to their Facebook page or follow them on Instagram  to find out where you can get your hands on their wholesome goodies.
I had the opportunity to speak to one of their co-founders to ask a few important questions:
What is the Rawsome philosophy?
We are intentional and considered about all aspects of Rawsome Chocolate. We have sometimes been referred to as the evolution of chocolate. The tapestry of Rawsome consists of: 100% post consumer packaging to wrap our handmade chocolates, real and all organic ingredients, and a donation of 10% of all choclate sales to Sea Shepherd and PETA. 'We see Rawsome as a vehicle to support organisations with similarly aligned values', says the founder.
What inspired you make raw chocolate?
I discovered there was nothing on the market in the way of delicious gluten free, soy free, dairy free, nut free and low GI organic chocolate so I began experimenting. I began testing my chocolate creations on my friends and the response was overwhelmingly positive. Not long after Rawsome Chocolate was born.
Your products are sweetened naturally with coconut sugar. Why is this better for us?
Coconut sugar is a natural sweetener and is derived from coconut tree sap, which is dried and ground to form a sugar. It's low GI and packed with amino acids, vitamins and minerals.
What is your favourite quote to live by?
I live by the day, not by the quote 🙂
---
Have you tried raw chocolate? What was your first impression? 
Let me know in the comments below!
Currently covered in cacao,